Our Pool Building Process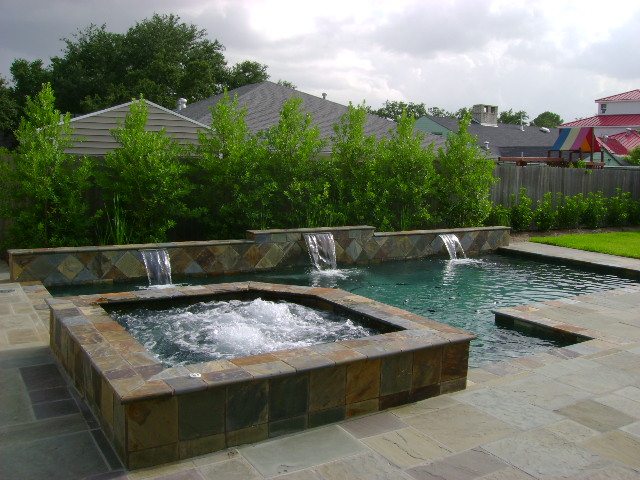 At Specialty Pools we go through each phase of the pool building process in a meticulous and professional manner resulting from our many years of experience in the pool industry.
Planning
Planning is one of the most important phases of the pool building process. We consider all details including size, shape, elevation, location and materials, including landscaping. The Planning phase will result in a custom design of a pool according to your specific wants and needs, and that fits within your budget.
Excavation
We insure proper placement of the pool before we begin excavation. We can take care of any items like removing fence panels or taking out landscaping. We level the yard and set the pool elevation, then bring in the necessary equipment to begin removing dirt.
Steel
Your gunite pool will need to be re-enforced with steel. We strengthen the beam, walls, and floor of your pool, and may add additional support where needed.
Plumbing
Once the steel structure of the pool is in place, our next step is to install plumbing features including the pipes and equipment. We build pools to maximize hydraulic efficiency.
Gunite
Gunite is the concrete and sand mixture that forms the shell your pool. It is blown or shot into place. After applying the gunite, we set up a system to cure the gunite and prevent hydration. Walls, benches and steps are put in place, and your new pool is beginning to take shape.
Coping
At this point we install tile and coping based on your selections. We pay careful attention to joints and cuts as they are mortared into place.
Electrical
All electrical work is performed by licensed electricians. We include all necessary electrical equipment and connections you will need for your pool project.
Decking
We work hard to make sure your decking areas are of the highest quality. We set up drainage to route water to the lower yard elevations or to other water drainage systems. The deck area is cleaned and leveled and forms for concrete are set.
Clean-up
Our crews make sure your pool area is meticulously cleaned, removing any construction debris. Any additional work like sprinkler repair or grading is done at this time.
Plaster
The interior of the pool is applied usually with a mixture of white Portland cement and marble dust. Optional color finishes are available.
Landscaping
Because of our affiliation with Louisiana Landscape Specialty, Specialty Pools is in a unique position to help you beautifully landscape your new pool. Ask us for a free consultation.
Service
Our crews start up the pool equipment and make sure everything is in perfect working order. We are also happy to provide "service after the sale" just in case!
For a complete explanation of how we work, contact us today for a Free Estimate.